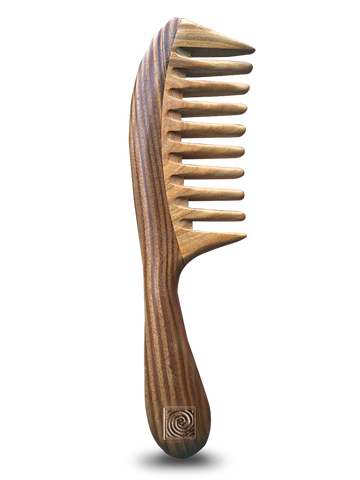 Exclusive: Curl Detangler Signature
Our new comb is our pro line which cuts detangling time even more. It is used by professional stylists looking for performance. It replaces the need for two combs as it is a rat tail and comb in one -- the top tooth is pointed so you can part with it. The comb is also bigger 8"x2.125" vs 7.25"x2.125"and sports a new fat handle for a better ergonomic grip. 
Limited Edition - Exclusive
This is our original comb, developed in house and guaranteed authentic. Don't be fooled by cheaper prices that are made from pressed manufactured woods!
Be one of the first in the world to get this exclusive Limited Edition comb.
Limited Supplies
Great comb!
This comb is amazing! I don't lose half as much hair as I used to with a plastic comb. This was a perfect addition to my hair routine. This comb is definitely worth it!
I love this comb. I wish I knew about it sooner.
Awesome smell
Have not yet used the comb but it looks and smells awesome. Glad I finally made the purchase.
Vomb
The comb is smaller than what I expected for the price
Simple and easily on hair
My hair tangles most of the time. Once I use this comb, it softens and release my hair. This is the best comb have had. It works in most hair condition.
Love it!
This comb is great! It allows me part and detangle my hair with just one comb! It has a nice weight and feels good in my hand.
Love the comb
I have 4C or kinky curly hair and I used the comb to help detangle and it was perfect.
Nice Comb
It's a nicely crafted comb. I like that I don't have to worry about static when I'm combing my hair with it compared to when using a plastic comb or a detangling brush. I also think it does a good job at distributing oils throughout the hair.
---
We Also Recommend
---